Meet an Innovator in Computer Science Education: Robert Fox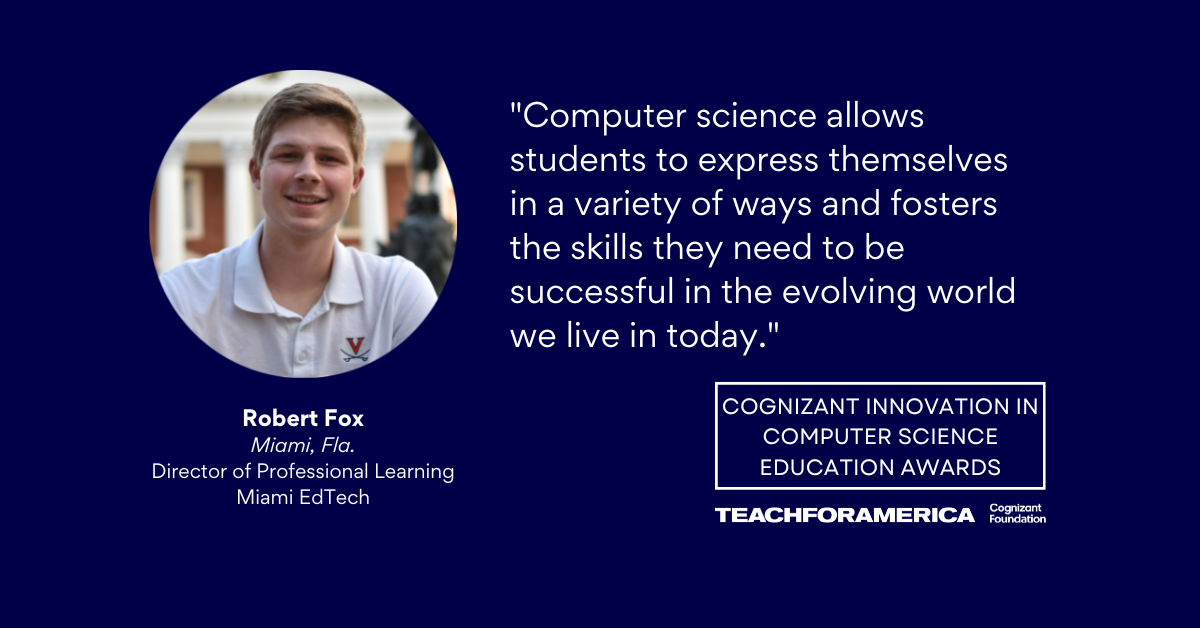 Robert Fox, Miami, Fla., TFA Region: Miami-Dade '19
In high school, Robert Fox's teacher Mr. Snyder first introduced him to coding, resulting in a lifelong passion for computer science. This same passion, he says, led him back to the high school classroom — only this time as an educator of both students and other teachers as he worked to pass on a love for coding that Mr. Snyder first instilled in him.
"The doors that computer science education can open are immeasurable and only growing more and more with time. It creates opportunities for students in communities that have little to no representation in the tech field, and shows students that it can be a career path for them," said Fox.
In the 2020-2021 school year, Fox launched the first-ever computer science class at Booker T. Washington Senior High School in Miami, Florida, in the midst of remote learning and a global pandemic. Luckily, Fox says it was enough to inspire a few passionate students to spread the word to their peers. 
The program, which began with just nine students in the first year, grew to 30 students in the second year — and now more than 50 students are enrolled in the current school year.
Simultaneously, Fox led teacher certification courses, working tirelessly to ensure there were qualified teachers ready to enter the classroom and create new opportunities for students in computer science.
Today, Fox hopes to bring the joy of computer science education to educators across Florida. In his new role as Director of Professional Learning at the nonprofit Miami EdTech, Fox is helping to create a more qualified and diverse group of computer science teachers to reach more students across the state. 
"Computer science allows students to express themselves in a variety of ways, draw connections between the material and nearly any other passion, and foster the skills they need to be successful in the evolving world we live in today."