Meet an Innovator in Computer Science Education: Maha Hasen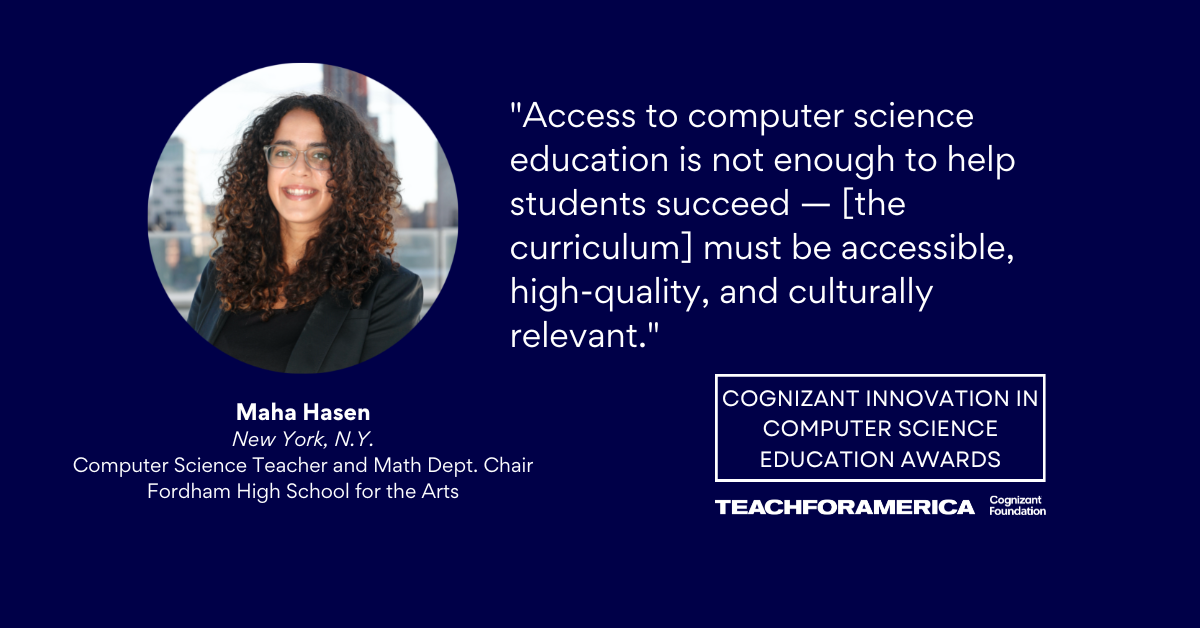 Maha Hasen, New York, N.Y., TFA Region: New York '16         
For seven years, Maha Hasen has been expanding computer science access at Fordham High School for the Arts, her original Teach For America placement school. The digital divide has only worsened in recent years, and in New York City — where 45% of low-income households are without broadband internet access — Hasen and her students are faced with the digital divide each day. 
With the rapid digitization and technological advancements in the world, Hasen says it's paramount to center computer science in education. What's more, with a majority student population (67%) of young women, Hasen found it even more critical to bring forth a robust computer science curriculum to Fordham Arts. 
"Access to computer science education, however, is not enough to help students succeed," said Hasen. She believes that it's critical students receive computer science instruction that is "accessible, high-quality, and culturally relevant." To create such a curriculum, Hasen argues that student-centered approaches are key.
"About five years ago, a few students motivated me to create a computer science track at the school. I think that people can understand the importance of elevating student voices in schools and making strides toward creating a curriculum that students are actually excited about. As a firm believer in expanding access to all, I took it upon myself to learn computer science so that we could offer a program."
And she did just that. 
In 2019, Hasen introduced AP Computer Science Principles to the Fordham Arts community. In the 2019-2020 school year, she also started a coding club to allow students to learn skills beyond app development. After advocating for the creation of a computer science track at the school, Hasen was able to offer AP Computer Science Principles, Introduction to Computer Science, and an Engineering Team with Project Invent —and over the past three years, 273 students at Fordham Arts have taken AP Computer Science Principles, with 65% of students who took the course expressing an interest in studying computer science in college. 
"One thing others can learn is that computer science education is important for everyone, even teachers and adults who have never formally studied it. In order to get more students access to a quality computer science curriculum, we must start by educating and inspiring a community of leaders to take intellectual risks and learn computer science themselves so they can in turn teach our students."