Meet an Innovator in Computer Science Education: Jennifer Nieves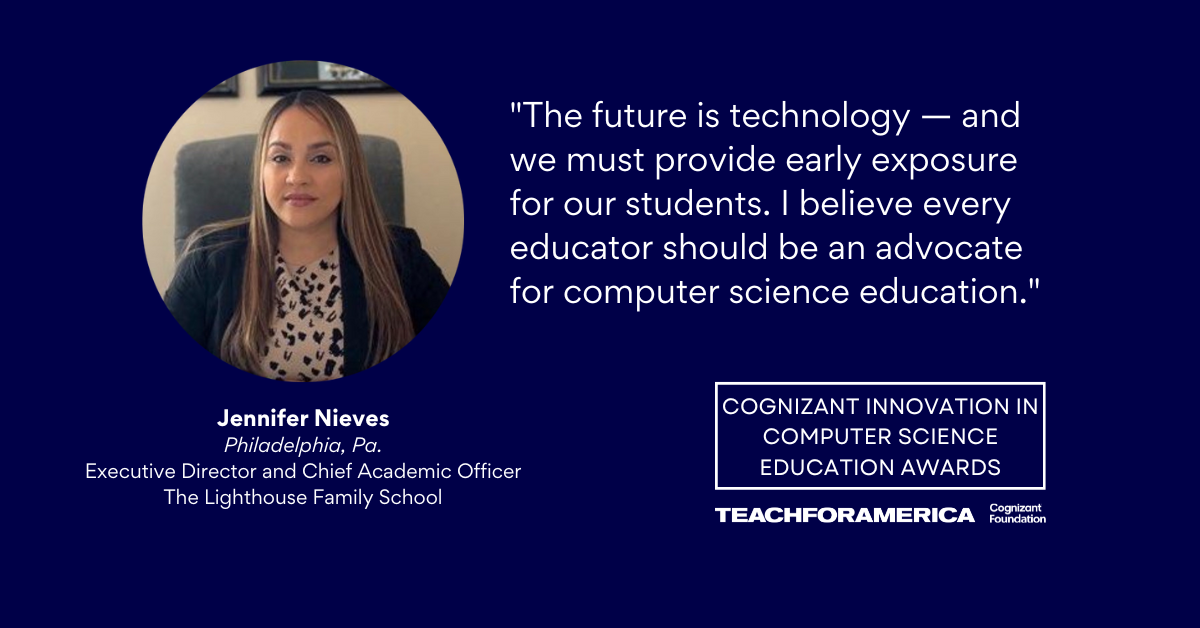 Jennifer Nieves, Philadelphia, Pa.

In her role as Executive Director and Chief Academic Officer at the Lighthouse Family School, Jennifer Nieves works to increase access to equitable computer science education and community engagement. Philadelphia is among the hardest hit cities due to the opioid epidemic, a factor Nieves says leads more low-income families to seek community support. 
This includes a lack of access to broadband services and devices. With digital inequities exacerbated by the Covid-19 pandemic, Nieves is dedicated to ensuring local families have equitable access to the tools and services they need to succeed.
"While the digital learning gap has widened over the last few decades and is spreading throughout the schools and classrooms of America, it took Covid-19 to truly understand the magnitude of these inequalities. Most students with access to technology do not live in the community we serve. Black and Latinx students are more likely to lack technological resources needed to succeed," said Nieves.
Most recently, Nieves has helped convert a classroom into a family access room to encourage an increase in family engagement efforts in the community. The multipurpose lounge serves as a learning space so that families can interact with children working on homework assignments and receive support completing projects with their children. 
Nieves said that the family access room has also enabled families to use computers to apply for employment and to build their resumes, and for students to take career and technical education classes. Moreover, Nieves says that by exposing children early on to technology, it helps them develop the skills they need to secure and thrive in high-powered, well-paying jobs in the future. 
"The future is technology — and we must provide early exposure for our students. I believe every educator should be an advocate for computer science education. We must also advocate for students experiencing inequities. It takes a village to advocate for and prepare our 21st-century learners to be college and career ready."