Cerina Livaudais: Creating Computer Science Curriculum Grounded in Indigeneity and Leadership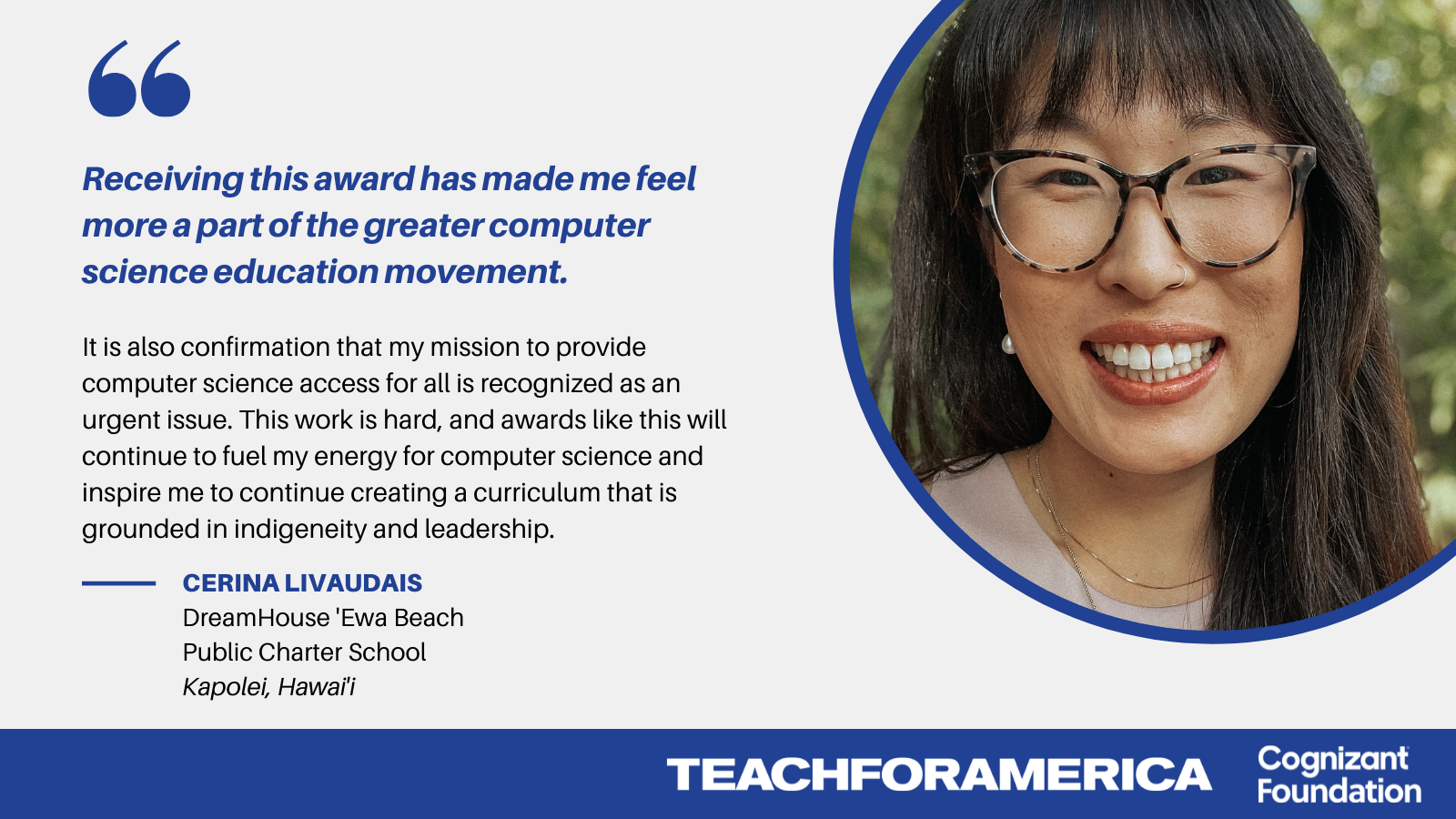 The Cognizant Foundation and Teach For America are proud to recognize the inaugural winners of the Cognizant Innovation in Computer Science Education Awards—these awards identify PK-12 educators and leaders who have demonstrated measurable impact expanding access to and advocating for computer science education. 
Below is a profile of award winner Cerina Livaudais, 8th grade founding computer science teacher at DreamHouse 'Ewa Beach Public Charter School in Kapolei, Hawai'i.
Cerina Livaudais started the first-ever computer science program at DreamHouse 'Ewa Beach Public Charter School that is accessible to all students regardless of background or computer literacy—the program is grounded in indigeneity, identity and leadership. 
To Cerina, computer science education is a form of educational justice. 
"As technology continues to play a larger and larger part of all our lives, it is imperative that every child has, at the very least, a basic understanding of how technology works," said Cerina.
Of the 100 8th-grade student-leaders taking computer science at DreamHouse, 90% had little or no experience learning computer science prior to taking the course. After just one quarter in the course, 78% of students say they might be interested in pursuing a job or major in computer science one day; 78% of students say they either "liked" or "loved" computer science class; and 94% of students believe that "computer science is for anyone." 
Cerina wants to decolonize computer science education. Thus, she ensures that her students learn from a diversity of Kumu (teachers) who are of different ages and from varying backgrounds. She incorporates guest speakers from organizations like Purple Mai'a to help students make connections between their cultural identities, gifts, ancestral knowledge and computer science. She also connects students with competitions such as the Congressional App Challenge (CAC) and the Samsung Solve for Tomorrow (SST).
She hopes to lead others in creating culturally-relevant STEM learning spaces and provide access for underrepresented students. 
-- 
Meet all of the winners
Learn more about the other educators and innovators recognized as the inaugural winners of the Cognizant Innovation in Computer Science Education Awards: